New Realm Distilling Releases First Limited Quantity Small Batch Spirit
New Realm Distilling Releases First Limited Quantity Small Batch Spirit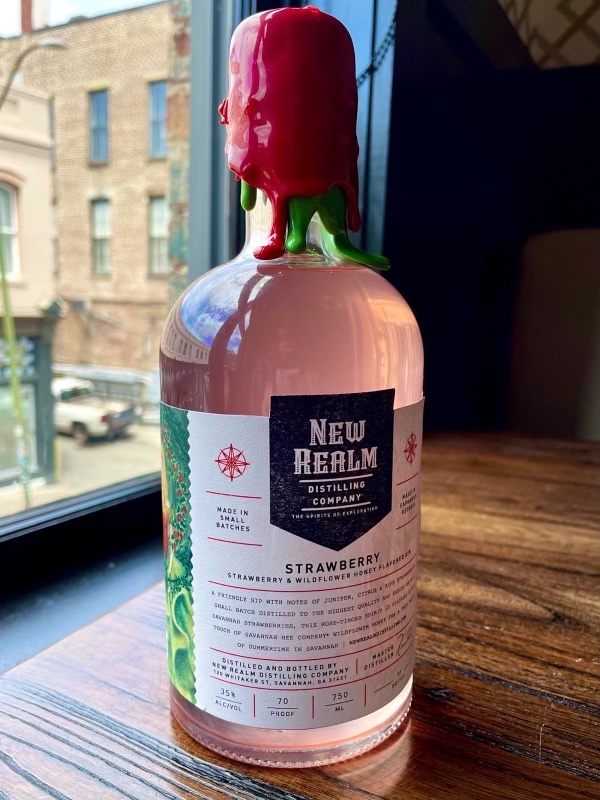 FOR IMMEDIATE RELEASE
August 30, 2022
Media Contact: Jennifer Abshire
Abshire Public Relations
912.695.7881
pr@abshirepr.com
Savannah, GA – New Realm Distilling is excited to announce the launch of its Strawberry Gin, a limited quantity small batch release featuring gin distilled with local farm-fresh strawberries and Wildflower honey. New Realm has been distilling a variety of spirits in Savannah since opening that location in 2021. The company began its distilling operations in Atlanta in 2019.
"I am pumped to be releasing this small batch into the market both in Savannah and in Atlanta," said Kevin Ford, Head Distiller for New Realm. "This is a great first pick in a series of small batch spirits and really offers the palate a mouthful of delicious, ripe Georgia strawberries. Gin enthusiasts both new and old will find this a very refreshing spirit whether they enjoy it on the rocks or in a cocktail."
New Realm's Strawberry Gin is a friendly sipper with notes of juniper, citrus and ripe strawberries. A small batch, it is distilled to the highest quality and rested on wild Savannah strawberries and finished with a touch of Savannah Bee Company® Wildflower honey for a true taste of summertime.
"I am extremely proud of what our distilling team and what they have accomplished over the past several years," said Carey Falcone, Co-Founder and CEO of New Realm. "We are excited to take our spirits program to the next level. Along with our Small Batch Series, Kevin and his team have been distilling New Realm Bourbon, Rum, Gin, and Vodka. This release is the first of several limited releases in the works, it is a very cool time for our team."
New Realm Brewing & Distilling locations not only brew and serve craft beer made in house under the watchful guidance of Brewmaster Mitch Steele, but also showcase cocktail creations made from all New Realm distilled spirits. To showcase the new Strawberry Gin, our taproom teams have concocted a very refreshing "Strawberry Gin Fizz" which is available on the menu in both Georgia locations.
The limited release of Strawberry Gin will be available while bottles last. Each bottle is hand numbered, wax dipped and features a unique label with hand drawn art by a SCAD-trained local artist. The bottles will be available in our Atlanta and Savannah locations – and fans can be the first to know by visiting newrealmbrewing.com and joining the Atlanta/Savannah email list OR by downloading the New Realm app.
Information:
Style: Gin with wild strawberries and local honey
Specs: 35% ABV
Proof: 70
Package: 750 ML Bottle
Distribution: Atlanta and Savannah New Realm locations
Limited Availability: August 2022
Strawberry Gin Fizz – Signature Cocktail
2 oz Strawberry Gin
1 oz Lemon Juice
1 oz Simple Syrup
1 muddled Strawberry
Soda to top
Place strawberries in glass. Muddle. Top with ice.
Add gin, lemon, simple syrup to shaker. Shake with ice.
Pour over fresh ice. Top with soda.
Garnish with strawberry and mint.
About New Realm Brewing:
New Realm is an American craft brewery and distillery started in 2016 by co-founders Carey Falcone, Bob Powers, and Mitch Steele. The Company operates production and innovation breweries/distilleries, each with on-site scratch kitchens serving globally inspired, locally sourced fare, in multiple Southeastern US cities. New Realm's core principles are quality, creativity, authenticity, and striving for perfection, all with a customer-centric community focused commitment and approach.
New Realm's awards include: Brewbound's "Rising Star" brewery, Ratebeer's "Best New Brewer in Georgia," Ratebeer's 11th "Best New Brewer in the World", and Virginia Craft Beer Cup's gold medal (2019 & 2021) and "2019 Best in Show" for Euphonia Pilsner. Brewmaster Mitch Steele was awarded the Russell Scherer Award for Innovation in Brewing and authored the book IPA: Brewing Techniques, Recipes, and the Evolution of India Pale Ale.
For More Information about New Realm Brewing:
Atlanta:
Kitsy Rose – Kitsy Rose PR
Kitsyrosepr@gmail.com