New Realm Brewing & Distilling Company Promotes Bradley Summers to General Manager in Savannah
New Realm Brewing & Distilling Company Promotes Bradley Summers to General Manager in Savannah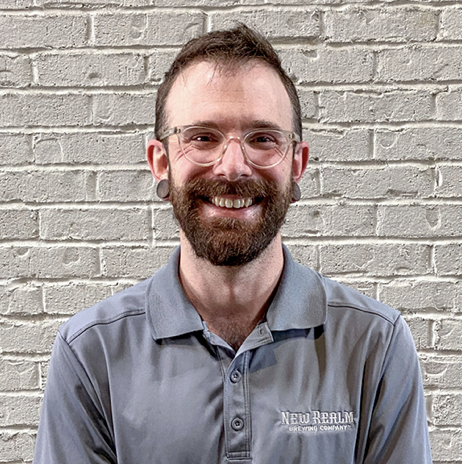 FOR IMMEDIATE RELEASE
August 23, 2022
Media Contact: Caroline Holden
Abshire Public Relations
912.695.7881
pr@abshirepr.com
SAVANNAH, GA — New Realm Brewing & Distilling Company is proud to announce Bradley Summers has been promoted to General Manager of New Realm's Savannah location.
Originally from Atlanta, GA, Summers began his career with New Realm in his hometown working as the Atlanta location's Taproom Manager. As Taproom Manager, Summers credits his ability to stay organized under pressure as the key to managing such a high-volume environment. He has always thrived in the hospitality industry due to his natural talent for connecting with people from all walks of life. Throughout the years, he has learned that leading by example, thoughtful listening and hands-on work often creates the most success when managing a team. Unsurprisingly, Summers has continued to climb the corporate ladder and feels thankful to have found a company willing to invest in their employees.
As General Manager in Savannah, Summers has quickly become New Realm's jack of all trades. In short, he is in charge of overseeing the restaurant's daily operations. This includes opening and closing the restaurant, staff training, inventory and cost management, payroll, repairs and maintenance, and so much more. Essentially, if you can name it, Summers can do it! He manages these immense responsibilities by surrounding himself with a fantastic local team and having unconditional support from the company at large.
"I love working for New Realm because it is a company which truly cares about its people. It delivers an amazing product in a very thoughtful and exciting environment. The culture of the company is unmatched. I feel supported in every challenge I take on with this company," said Summers.
For more information on New Realm Brewing & Distilling, please visit www.newrealmbrewing.com.
About New Realm Brewing & Distilling:
New Realm is an American craft brewery and distillery founded in 2016 by Carey Falcone, Bob Powers, and Mitch Steele. Since its inception, New Realm has 'brewed up' quite the storm with locations in Atlanta, GA, Charleston, SC, Virginia Beach, VA, and Savannah, GA. The popularity of their home-grown beers and distilled spirits, coupled with locally-sourced pub fare, has enabled New Realm to effortlessly join and stay engaged in each community, regardless of the location. Their philosophy is simple: never become stale in any sense or style. With a customer-centric, community-focused approach and core principles surrounding quality, creativity, authenticity, and striving for perfection, New Realm takes the craft beer experience to new heights.
New Realm's awards include Brewbound's "Rising Star" brewery, Ratebeer's "Best New Brewer in Georgia," Ratebeer's 11th "Best New Brewer in the World", and Virginia Craft Beer Cup's gold medal and "Best in Show" for Euphonia Pilsner. Brewmaster Mitch Steele was awarded the Russell Scherer Award for Innovation in Brewing and authored the book IPA: Brewing Techniques, Recipes and the Evolution of India Pale Ale.