NCG Cinema is officially open at a familiar location
NCG Cinema is officially open at a familiar location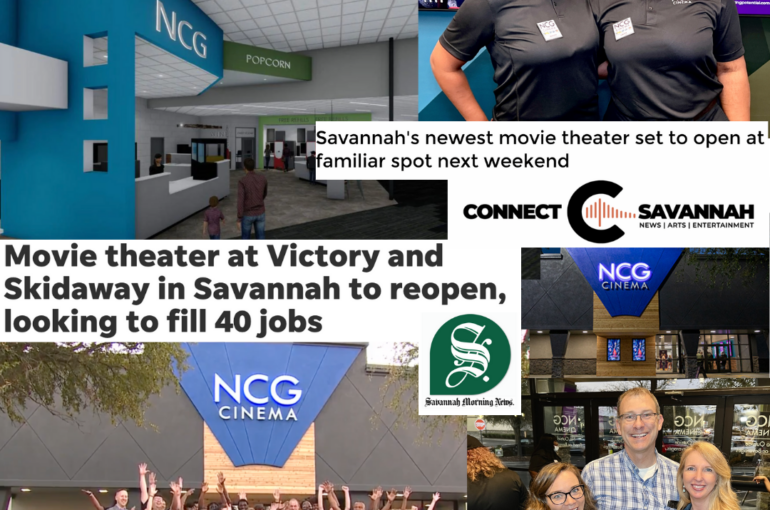 We love bringing new brands to Savannah! NCG Cinema is officially open at a very familiar location…..
Like many Savannahians, APR was devastated when the Victory Theater closed in early 2018. Now, in a post-quarantine world, many local movie goers are wondering, do I really have to drive to Pooler to see the new Batman?
Well Savannah, we've got good news! On Friday, February 25th, 2022, NCG Cinema opened their new theater at the former Victory Stadium 9 location. Along with a slew of new movies, the latest NCG Cinema is also bringing dozens of new jobs to the community. For those still wanting that IMAX theater atmosphere – don't fret! NCG Cinemas prides themselves on providing an experience that follows newer movie-goer trends, including leather seats, assigned seating, free popcorn and refreshment refills, and the latest Dolby surround sound.
"We wanted to create a memorable experience for moviegoers in the greater Savannah area," said Jeff Geiger, NCG Chief Executive Officer. "This new theater features our latest technology. It is designed to give movie fans an immersive two-hour vacation from daily life. We're excited to invite The Hostess City to join us for the celebrations at the end of this month and to enjoy the luxuries of NCG Movies for years to come!"
APR was proud to partner with NCG Cinema to restore life back into a Savannah staple and bring movies back to our community!