Generation Next 2018
Generation Next 2018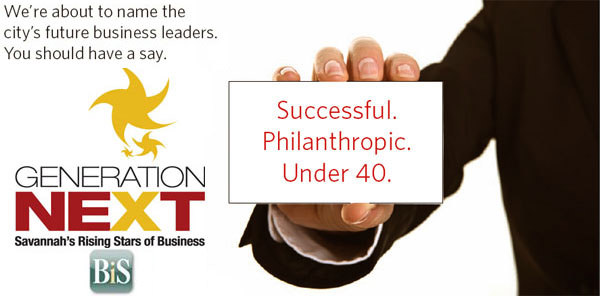 Tomorrow is the big day for 28 professionals under 40 in Savannah. We're talking about Generation Next, and we wanted to acknowledge our friends and clients for their accomplishment! Click the nominee's name to view more of their profile.
Miranda Marchant at The DeSoto: "The biggest challenges in my business — or any business for that matter — are staying on top of new trends and finding meaningful, authentic ways to market to an already jaded society. For me, the best way to continue to be on the top of my game is above all to remain flexible."
Luke Bradley at Bouhan Falligant: "At this point, it's become a cliché, but it's true—automation will change everything, including business litigation. Clients that automate their processes will see incredible productivity gains but also new areas of liability. Attorneys will have to stay informed on new technology and remain creative in our approaches to it."
Courtney "Coco" Papy at The Creative Coast: "At the heart of the social and creative economy are the industries that are at the crossroads of arts, culture, social benefit services, and technology, things that we all recognize as important because of their inherent value."
Keith Miller at Block by Block, Deep Center: "At times, we get so caught up in being "adults" and feeling we know what's best for future generations that we never take the time to ask them what city they want to grow up in. The changes they want to see and the ways in which we as a city are letting them down or could be supporting them better."
Hilary Shipley at Colliers International, Savannah: "Technical degrees for logistics, hospitality, and film [will be the most in-demand college degrees]. Savannah Tech seems to be doing a great job implementing programs geared towards these sectors."
Heather Gordon at Heather Gordon Consulting: "We need to be looking for better answers, not just accepting the way it has always been done. Solutions are going to require innovation and risk-taking. Done right, innovation could be our most promising economic driver."
Amanda Hallowell at LifeLink of Georgia: "Cultural competence should be at the forefront of every company's platform. If you do not understand what your employees are going through or provide a platform for them to express or make input you are stifling the growth of your company."
Jeff Bush at Parker's: "Giving back to local schools will not only allow for a direct impact into future generations' educational basis but I hope it inspires them to continue the cycle of giving back to the communities they live in."
Leandra Mikell at the World Trade Center: "I hope to be an example of integrity, professionalism, and passion. None of those things are innovative, but all are timeless and imperative no matter what career path one aspires to."
Congrats, everyone! You are invaluable assets to our community and will continue to inspire.