The Charm, and Challenge, of Savannah
The Charm, and Challenge, of Savannah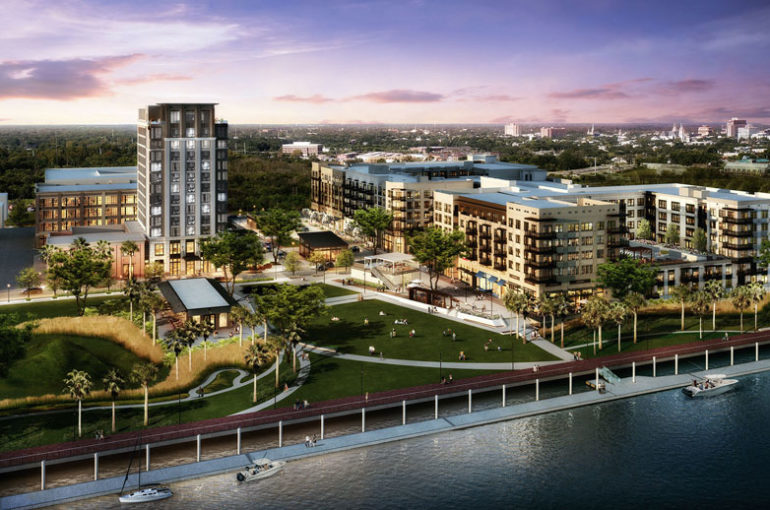 Aug. 6, 2019
SAVANNAH, Ga. — In the annals of lengthy and arduous public reviews, a project along 54 acres of the Savannah River stands out.
The development, called Eastern Wharf, was proposed in the early 2000s; since then, it has changed ownership at least five times, altered its name once, generated two separate master plans, and appeared before the Savannah City Council for approval 58 times.
The project — a mix of residences, retail and public spaces, parking structures and recreational infrastructure, finally coming into view just beyond the moss-draped historic city center — reflects the attention.
The first residential tower, a $125 million, five-story apartment building, surrounds a parking deck. A 2,000-foot riverfront promenade stretches past a two-acre public park and rows of townhouses. The developers, Mariner Group and Regent Partners, both based in Atlanta, have agreements to start an $88 million, 193-room Thompson Hotel in the fall, and plan a $30 million, 80,000-square-foot office building.
Eastern Wharf is the largest expansion of Savannah's downtown in its 286-year history, and the first since the 1860s. Intensive public attention ensured that the project met the density, walkable scale and design ethic required by Savannah's strict oversight.
"As a developer, it's time-consuming and expensive," said William W. Hubbard, president of the Savannah Area Chamber of Commerce. "As a developer, you want to move fast and save money."
But Mr. Hubbard called Savannah "a European-style city" with Continental charm that requires preservation. "It takes a more rigorous process if the ultimate goal is to preserve our unique experience," he said.
Savannah residents and leaders have worked a long time to achieve that goal. More than 70 years ago, preservationists began to rescue the city's Federalist, Italianate, Georgian, Romanesque, Gothic and Greek Revival homes and buildings from neglect and urban flight. In 1966, the National Park Service designated roughly one square mile of the downtown as a National Historic Landmark District, preserving nearly 2,000 homes and buildings dating from the 18th and 19th centuries.
Contemporary Savannah, a trove of antique architecture along tree-shaded streets and squares planned by James Edward Oglethorpe, the city's founder, reflects the preservation instinct. Each year, Savannah attracts 14 million visitors who put $3 billion into the city's economy.
Savannah has nearly 147,000 residents, roughly 10,000 more than in 2010. According to city figures, a record number of projects are under construction to meet the city's surging market demand.
Check out the full article here