Savannah Speech and Hearing Center Honors Ashley Rutland As Volunteer of the Year
Savannah Speech and Hearing Center Honors Ashley Rutland As Volunteer of the Year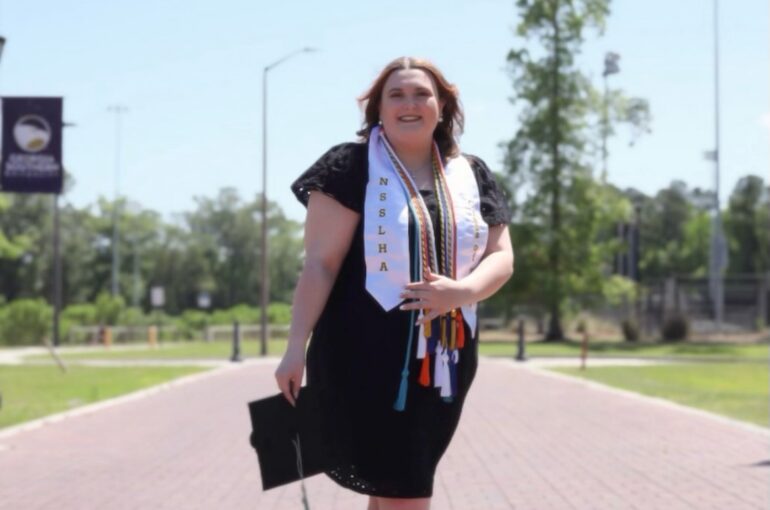 FOR IMMEDIATE RELEASE
May 16, 2022
Media Contact: Susan Hancock
Abshire Public Relations
912.844.9549
pr@abshirepr.com
SAVANNAH, Ga. – Savannah Speech and Hearing Center, a nonprofit organization serving the speech pathology, audiology and pediatric occupational therapy needs of the Coastal Empire since 1954, is pleased to announce Ashley Rutland as this year's recipient of the Annie F. Oliver Award for Volunteer of the Year.
The Annie F. Oliver Award recognizes excellence and a strong commitment to volunteering for the betterment of the Savannah Speech and Hearing Center Community. The award was created in 1979 to honor Annie F. Oliver, an administrator of the Savannah Speech and Hearing Center from 1962 to 1978 and a community volunteer.
A recent Georgia Southern University graduate, Rutland began volunteering with the Savannah Speech & Hearing Center in January of 2021. She committed more than 90 hours helping with community hearing screenings, fundraising, administrative duties, scheduling of other GSU volunteers, assisting at Sound Start, the Center's early intervention auditory/verbal program for children who are Deaf or Hard of Hearing, as well as with the Speak Easy, a support group for survivors of stroke or traumatic brain injury.
A native of Lilburn, Georgia, Rutland graduated summa cum laude with a Bachelor of Science degree, majoring in Communication Sciences and Disorders with a minor in Psychology from Georgia Southern University Armstrong Campus. She will begin pursuing her Master of Education with a Major in Speech-Language Pathology program at the University of West Georgia this Summer. She hopes to practice pediatric speech therapy, specializing in traumatic brain injury rehabilitation.
ABOUT SAVANNAH SPEECH AND HEARING:
Since 1954, Savannah Speech and Hearing has been committed to providing comprehensive speech, hearing, language and other therapeutic services that empower and transform the lives of both children and adults, regardless of financial abilities. Savannah Speech and Hearing offers a wide range of programs including Sound Start, audiology, speech, pediatric occupational therapy, hearing aids, cochlear implants, informational resources, a stroke and traumatic brain injury survivors' support group and other specialized programs. Savannah Speech and Hearing speech-language pathologists and audiologists are certified by the American Speech Language Hearing Association (ASHA), their occupational therapists are certified by the American Occupational Therapy Association (AOTA), and all are licensed by the Georgia State Professional Licensing Board. For more information, visit www.speechandhearingsav.org or call 912.355.4601.