Savannah is buzzing about Foster Beelief!
Savannah is buzzing about Foster Beelief!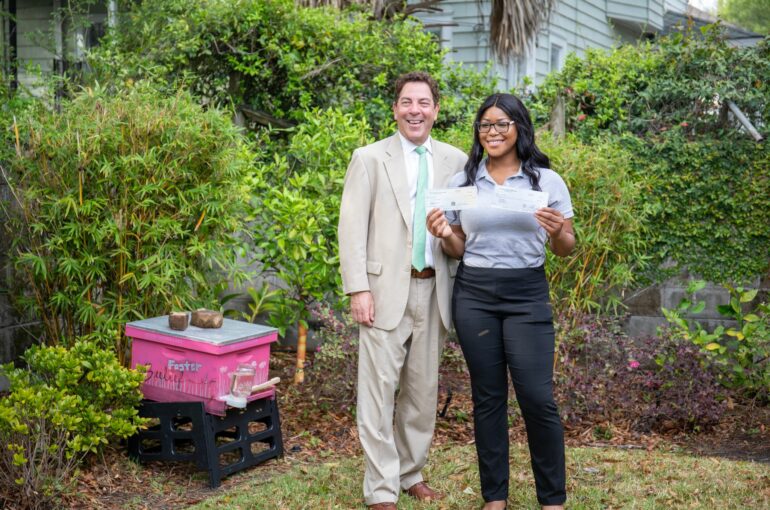 On March 31st, 2022, National Office Systems (NOS), in partnership with World Trade Center Savannah (WTCSav), honored and presented the winning check to Savannah State University graduate student Sade Shofidiya, for being the global winner of the World Trade Centers Association Foundation (WCTAF) competition.
Two Savannah State University students, Sade Shofidiya and Karen Rerez, were named the winners of the Peace Through Competition for their Foster Beelief project. The all-female team's entry, Foster Beelief, is a student-led honeybee charity working to promote sustainability through the education of the at-risk honeybee population, increasing STEM interests and environmental stewardship, building stronger industry and community partnerships, and increasing citizen involvement in communities. The team competed against 33 teams from 24 countries around the globe. Both women are former WTCSav interns and current graduate students at Savannah State University.
The Foster Beelief Team was sponsored by NOS in the competition. As part of their "Foster-A-Hive" Program, a hive is now installed in the NOS's courtyard in further support of this winning project!
We were honored to support NOS, WTCSav, and Foster Beelief's mission of creating sustainability and making a positive impact on the environment while supporting plant production, pollinator health, the public health of future generations and student research.
To learn more about Foster Beelief and their impact, please visit www.fosterbeelief.org