Ronald McDonald House of the Coastal Empire Honors Community Champions at Annual Community Impact Awards
Ronald McDonald House of the Coastal Empire Honors Community Champions at Annual Community Impact Awards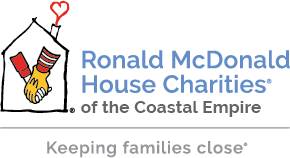 FOR IMMEDIATE RELEASE
November 17, 2023
Media Contact: Jennifer Abshire
Abshire Public Relations
912.695.7881
pr@abshirepr.com
Ronald McDonald House of the Coastal Empire Honors Community Champions at Annual Community Impact Awards

Ronald McDonald House Charities of the Coastal Empire held its annual Community Impact Awards on Tuesday, November 14th, at the Ronald McDonald House, located at 4710 Waters Avenue, on the campus of Memorial Health Hospital. RMHC provides a home away from home for families that have a critically ill or injured child being treated at our local children's hospital or medical facility.
This annual event recognized forty businesses and individuals that have displayed exceptional service over the course of the year to support and volunteer their time for Ronald McDonald House. Top award recipients include William "Wiggy" Wiggins and Thompson & Thompson Service Group. Both received the George Flannigan RMHC Hero Award. The George Flannigan Hero award was named in memory of George Flannigan, a longtime supporter of the House. Ann Walker received the Mike Cashwell Keeping Families Close Award. The Mike Cashwell Award is in honor of Mike Cashwell, for his love and dedication to the children and families of the Ronald McDonald House and putting them first above all else. Because of Mike's passion, while battling cancer, he has raised in excess of over $85,000 for the kids we serve in support of our mission.
The George Flannigan award is given out to one individual or organization each year. This award honors a Child and Family Advocate who has made great contributions to improving the quality of life for children in the Coastal Empire. The award is specific to the organization/individual in their works involving and benefiting the Ronald McDonald House Charities of the Coastal Empire and those critically ill children and their families who are served. Selection of this award is made by the CEO and staff who directly work with the children and families at RMHC, and incorporates the entire scope of need, compassion, strength, time, and talents. What stands out about the George Flanagan RMHC Hero Award is that it is not based on a well written submission as there is no nomination process.
It is the promise and hope that the winners will continue to support children and RMHC well after the awards end that gives George and RMHC such confidence that his legacy will be continued in Charitable works.
For additional information about how you can volunteer or support Ronald McDonald House Charities of the Coastal Empire, contact RMHC at 912-350-7641.
About Ronald McDonald House Charities of the Coastal Empire
Ronald McDonald House Charities (RMHC) of the Coastal Empire, is a non-profit, 501 (c) (3) corporation that creates, finds, and supports programs that directly improve the health and well-being of children and their families. The cornerstone program is the Ronald McDonald House that serves as a "Home away from home" for families with critically ill or injured children receiving treatment at area hospitals. Other core programs include the Ronald McDonald Family Room®, a "Haven in the hospital" for families with children receiving treatment at St. Joseph's/Candler Hospital and the Memorial Health Dwaine & Cynthia Willett Children's Hospital of Savannah, the Ronald McDonald Care Mobile® that provides underserved children with free dental examinations and preventive treatment and the RMH Hospitality Cart which cares for all the patients at Dwaine & Cynthia Willett Children's Hospital of Savannah. For more information visit www.rmhccoastalempire.org. Follow RMHCCE on Twitter, Facebook and Instagram. #KeepingFamiliesClose