Kevin Ford Named New Realm Brewing & Distilling Company's Master Distiller
Kevin Ford Named New Realm Brewing & Distilling Company's Master Distiller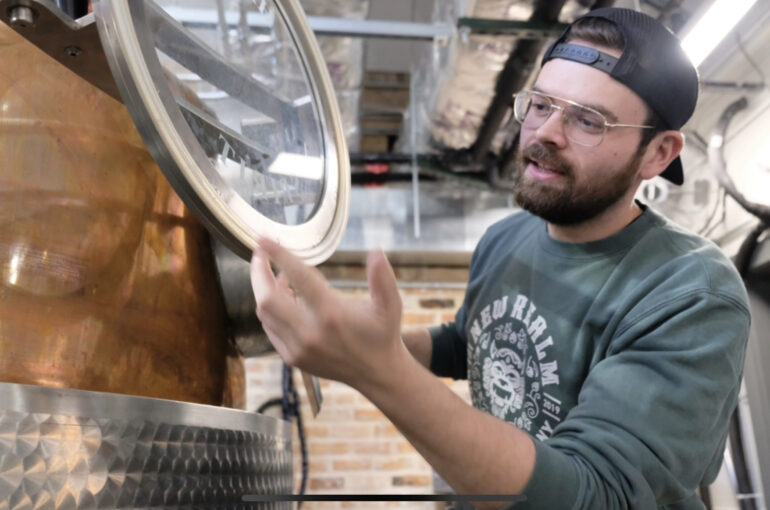 Media Contact: Caroline Holden
Abshire Public Relations
caroline@abshirepr.com
912.695.7881
SAVANNAH, GA — New Realm Brewing & Distilling Co. is excited to announce Kevin Ford has been selected as their new Master Distiller.
As the new Master Distiller for New Realm Brewing & Distilling, Ford is primarily responsible for overseeing all production and development of the company's best selling Spirits. Ford's passion for distilling dates all the way back to age 15, when he started experimenting making alcohol in upstate New York as a hobby. Prior to moving to Savannah, Ford worked as head distiller for Buffalo Distilling Company in New York, spending his spare time teaching as a professor of brewing and distilling sciences at Trocaire College.
When asked what Ford loves about his job, the overwhelming passion he has for his craft comes through in spades.
"I learned to distill by making whiskey, and I would often say that whiskey isn't a craft, but a discipline… almost a religion. Whiskey humbles you and reminds you of the basic values of life – patience & fortitude conquer all, good things take time, some things can't be faked, and at the end of the day people are the most important ingredient," said Ford.
For more information about Ford and the New Realm Brewing & Distilling spirits program, please visit www.newrealmbrewing.com.
About New Realm Brewing & Distilling:
New Realm is an American craft brewery and distillery founded in 2016 by Carey Falcone, Bob Powers, and Mitch Steele. Since its inception, New Realm has 'brewed up' quite the storm with locations in Atlanta, GA, Charleston, SC, Virginia Beach, VA, and Savannah, GA. The popularity of their home-grown beers and distilled spirits, coupled with locally-sourced pub fare, has enabled New Realm to effortlessly join and stay engaged in each community, regardless of the location. Their philosophy is simple: never become stale in any sense or style. With a customer-centric, community-focused approach and core principles surrounding quality, creativity, authenticity, and striving for perfection, New Realm takes the craft beer experience to new heights.
New Realm's awards include Brewbound's "Rising Star" brewery, Ratebeer's "Best New Brewer in Georgia," Ratebeer's 11th "Best New Brewer in the World", and Virginia Craft Beer Cup's gold medal and "Best in Show" for Euphonia Pilsner. Brewmaster Mitch Steele was awarded the Russell Scherer Award for Innovation in Brewing and authored the book IPA: Brewing Techniques, Recipes and the Evolution of India Pale Ale.