Food Lion Feeds Donates $28,450 to Senior Citizens Inc. – Donation Will Support Meals on Wheels for Local Seniors
Food Lion Feeds Donates $28,450 to Senior Citizens Inc. – Donation Will Support Meals on Wheels for Local Seniors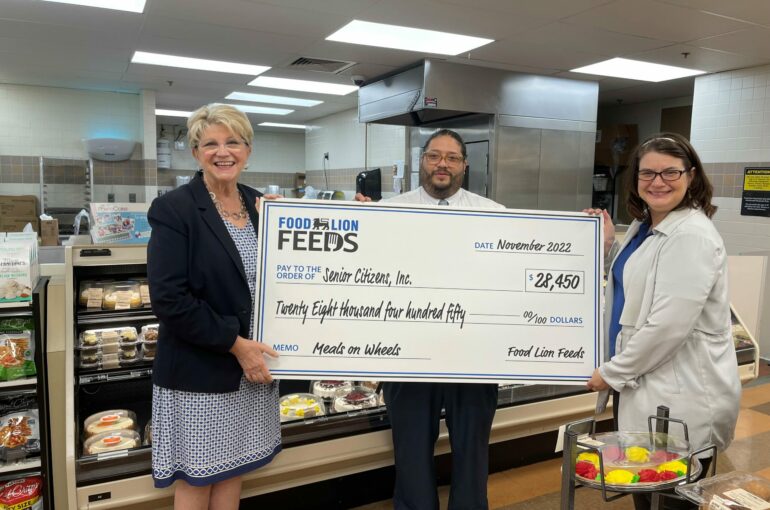 FOR IMMEDIATE RELEASE
January 13, 2022
Media Contacts:
Susan Hancock Patsy Grainger
Abshire Public Relations Senior Citizens Inc.
912.844.9549 912-236-0363
pr@abshirepr.com pgrainger@seniorcitizens-inc.org
Savannah, Ga. – Through a national partnership with Meals on Wheels America, Food Lion Feeds has donated $28,450 to Senior Citizens, Inc., a nonprofit dedicated to enhancing the quality of life for area seniors. The grant will provide a new vehicle to be used to deliver meals to local seniors, as well providing meals for seniors.
"We are grateful for Food Lion's support of our program. The new vehicle will be an important part of our fleet that delivers meals to across four counties," said Patti Lyons, President of SCI. "Additionally, their support is allowing us to do a pilot program to provide home-delivered meals to older adults receiving in-home care, particularly in post-operative situations."
SCI is one of 13 Meals on Wheels programs receiving grant funds in communities where Food Lion operates, and the funding is made possible through a partnership between Meals on Wheels America and Food Lion Feeds. In total, Food Lion Feeds has donated $500,000 to Meals on Wheels America and grantee organizations in recognition of the 50th anniversary of the Older Americans Act Nutrition Program. (Federal legislation that provides critical funding for nutrition services and helps support programs like Meals on Wheels.)
The Meals on Wheels programs receiving these grants collectively serve 18,000 seniors annually. They will be able to nourish more seniors in need because of these resources. Even before the COVID-19 pandemic, one in eight seniors in America experienced food insecurity. Since the pandemic, 88 percent of Meals on Wheels programs have been affected by increases in meal production expenses and labor costs.
"These meals will immediately impact seniors' lives and have a lasting result for the organizations at a time when the high demand for Meals on Wheels remains steady," said Kevin Durkee, Manager, Food Lion Feeds, Food Lion. "Through this partnership with Meals on Wheels America and these community-based programs, we will make a tangible impact to serve our aging neighbors in the towns and cities we serve. No senior should have to worry about where their next meal will come from."
ABOUT SCI
Senior Citizens Inc. (SCI) has been helping people in coastal Georgia age successfully since 1959 through a variety of programs including Meals on Wheels, in-home nursing and personal assistance, Adult Day Health Centers, The Learning Center, SAGE Private Services, and much more. Recognized as a national leader in providing services for older adults, SCI anticipates doubling its impact through the expansion of its facility and services with its Center for Successful Aging. To learn more about SCI, its services, and plans for expansion, please visit www.seniorcitizensinc.org or call 912-236-0363.
ABOUT MEALS ON WHEELS AMERICA
Meals on Wheels America is the leadership organization supporting the more than 5,000 community-based programs across the country that are dedicated to addressing senior isolation and hunger. This network serves virtually every community in America and, along with an estimated two million staff and volunteers, delivers nutritious meals, friendly visits and safety checks that enable America's seniors to live nourished lives with independence and dignity. By providing funding, leadership, education, research and advocacy support, Meals on Wheels America empowers its local member programs to strengthen their communities, one senior at a time.
ABOUT FOOD LION
Food Lion is an omnichannel retailer committed to nourishing its neighbors during the moments that matter most. More than 82,000 associates across 1,100+ stores deliver an easy, fresh, and affordable shopping experience throughout 10 Southeastern and Mid-Atlantic states. Through its 'Count on me' culture, Food Lion fosters a sense of belonging for all associates, promoting a diverse and inclusive environment that has supported LGBTQ+ equality for nearly two decades. Food Lion is the only company in the country to be named an ENERGY STAR Partner of the Year for 21 consecutive years. It also pioneered a food rescue program to support food-insecure neighbors. Through Food Lion Feeds, the retailer has donated more than 970 million meals to individuals and families since 2014 and has committed to donating 1.5 billion meals by 2025. Founded and based in Salisbury, N.C., since 1957, Food Lion is a company of Ahold Delhaize USA, the U.S. division of Zaandam-based Ahold Delhaize. For more information, visit foodlion.com.