Brooks Zeigler of Morris & Templeton Insurance Receives 2022 IIAG Edgar Dunlap Award
Brooks Zeigler of Morris & Templeton Insurance Receives 2022 IIAG Edgar Dunlap Award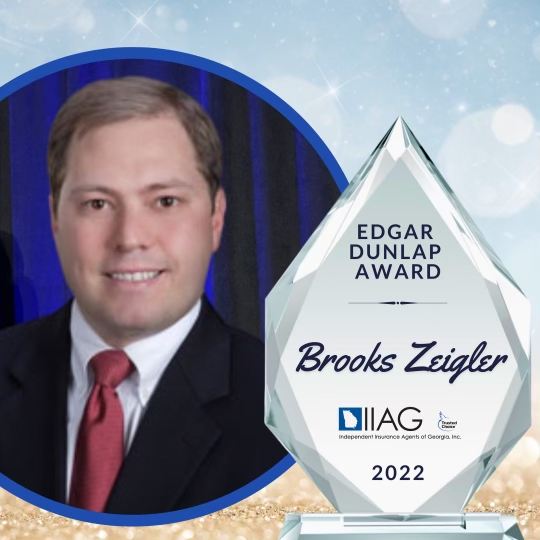 SAVANNAH, GA. – Morris & Templeton Insurance congratulates Brooks Zeigler on receiving the 2022 Edgar Dunlap Award at the 125th Independent Insurance Agents of Georgia (IIAG) annual convention on Amelia Island held in June. This prestigious award is presented annually by the Georgia state trade association in honor of the 10th President of the association, Edgar Dunlap, to recognize outstanding community service by a member agent.
Brooks is a past Chairman of the Georgia Young Agents Committee, and has remained actively involved in the state and national associations. He attributes much of his success to the positive impact his involvement in IIAG and their Young Agents Committee (YAC) has had on his professional development and career. Brooks is incredibly humbled and honored to be alongside a remarkable list of former recipients of this prestigious award.
For more information on Morris & Templeton Insurance, please visit https://morristempleton.com or call 912.355.4549.
About Morris & Templeton Insurance: Since 1981, Morris & Templeton Insurance has proudly served individuals, families and business owners in our area. Over the last 30 years, they have maintained a strong commitment to creating lasting relationships with every client through strong attention to detail, routine reviews of your changing insurance needs, assistance with the claims process and easy accessibility throughout the life of your coverage. Morris & Templeton offers the personalized advice and guidance needed to quickly and easily compare rates for policies that meet your specific car, home and business insurance needs.
About Independent Insurance Agents of Georgia: Founded in 1897, the Independent Insurance Agents of Georgia (IIAG) has a membership of over 700 agencies, including branches, and 4,000 insurance professionals in Georgia. With over 100 years of coalition and dedication, IIAG promotes the common business interests of independent agents within the industry, before government and the public, consistent with the best interests of the insurance-buying public. IIAG has been recognized with numerous awards for outstanding achievement in education, communications, governmental affairs, civic contributions, and consumer services.