#1 New York Times Bestselling Author, Eric Metaxas, Visits Savannah to Unveil His Latest Book, "Letter to the American Church"
#1 New York Times Bestselling Author, Eric Metaxas, Visits Savannah to Unveil His Latest Book, "Letter to the American Church"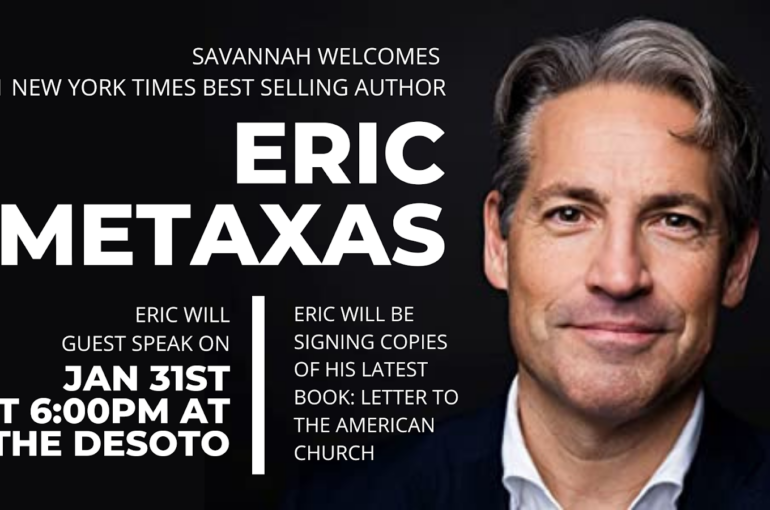 Media Advisory
Media Contact:
Shannon Phillips
912.695.7881
pr@abshirepr.com
WHAT: #1 New York Times Bestselling author, Eric Metaxas, Unveils His Latest Book, "Letter to the American Church", to Savannah. The community is invited to attend his presentation and book signing event on Tuesday, January 31st at 6:00pm at The DeSoto's first floor ballroom.
WHEN:
Tuesday, January 31st at 6:00pm
WHERE:
The DeSoto's First Floor Ballroom
15 E Liberty Street
Savannah, GA 31401
To learn more visit his website at ericmetaxas.com and connect with him on social media: Facebook.com/ericmetaxas and Twitter @ericmetaxas.
###
ABOUT ERIC METAXAS: Eric Metaxas is the #1 New York Times Bestselling author of Bonhoeffer, and many other books, including Is Atheism Dead?, Martin Luther, Amazing Grace, and Letter to the American Church. He has written more than thirty children's books, including the bestsellers Squanto and the Miracle of Thanksgiving and It's Time to Sleep, My Love, illustrated by Nancy Tillman. His books have been translated into more than twenty-five languages. He is the host of Socrates in the City, and the nationally syndicated Eric Metaxas Radio Show – "The Show about Everything!" – which also airs as a weekly television program on TBN. Metaxas has conducted interviews with an eclectic mix of guests including film director Ron Howard, Mel Gibson, and Morgan Freeman, as well as such figures as Peter Thiel. His writing has appeared in the New York Times, The New Yorker, The Atlantic, and many other publications.